ADTH Conista Go Conditional Access System and DGI 1012 Mobile Digital TV Receivers Power New APAC Subscription TV Service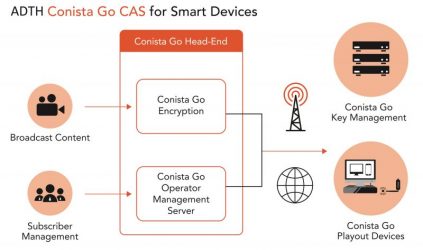 ADTH is pleased to announce that its Conista Go conditional access technology has been chosen to power a new service from one of APAC's leading media and entertainment organizations. Also forming a core element of the new service is the ADTH DGI 1012 miniature mobile DTV receiver, a dongle that attaches to the USB port of Android phones.

Mobile devices have become extremely popular in recent years as tools for communication, information and entertainment. Content providers around the world are rising to this challenge, offering a broadcast range of content which viewers can access easily from practically any location. The DGI 1012 sources from secured terrestrial digital transmissions rather than internet delivery so viewers can watch as much content as they like without eating into their mobile platform's data allowance. The receiver can decode HD or SD video encoded with MPEG-2 and MPEG-4/H.264. It can also decode transport streams, including conditional access content, along with multi-format audio and video.

"Our Conista Go Mobile conditional access system supports this service by protecting content against unauthorized piracy," adds ADTH Strategic Partnerships Manager, Alex Day. "It provides a high level of security for pre-recorded and offline content. Conista Go Mobile integrates quickly and easily into existing IP, terrestrial, cable, satellite, mobile and hybrid networks without interrupting subscriber services. Software-based, it is routinely updated against evolving security issues."

Conista CAS comes in two forms providing two levels of security and convenience. Conista Plus is a hardware-based system which can be configured as a standalone traditional solution employing secure chip technology plus full headend support to prevent piracy. This configuration can be deployed as a primary CAS or used in simulcrypt applications. Conista Go is a software-based variant which can be configured to operate as a secure bridge. It provides content security between the set-top box and smart devices which are allowed access within a home network environment.

Conista CAS is regularly updated and evolved to remain proof against evolving security threats. Both versions offer broadcasters and TV operators the highest level of control over their content, guaranteeing content security even during viewing of pre-recorded or offline programs.

Conista CAS can operate in conjunction with multi-room and multi-screen environments, sending encrypted content to multiple devices within a home network and delivering the content to multiple network services. For mobile or tablet devices, it acts through a central subscription in the home to monitor content viewing from multiple devices.